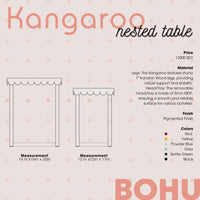 KANGAROO, the keeper in the family. Perfectly capable of keeping your daily essentials organized at one place, these tables bring adaptability and style to your home. Slide them together or showcase decor, the Kangaroo offers reliability for daily use. Brighten your home with this duo. 

Order now for quick 7-day delivery.
In stock, get yours today!
Size:
The small table (Baby Kangaroo) cleverly fits into a 12"x12" square space, with a height of 17".
The larger table (The Kangaroo) effortlessly occupies a 16"x16" square space and stands at a comfortable height of 20".

Material:
Legs: The Kangaroo features sturdy 1" Karoshin Wood legs, providing robust support and stability.
Head/Tray: The removable head/tray is made of 5mm MDF, ensuring a smooth and reliable surface for various activities.

Finish: Pigmented Finish

Tray Colors: Red, Yellow, Powder Blue, Grey, Bottle Green & Black.
Maximize space with these stylish and functional nested table.
Stylish and functional. Compact storage.
Flip-top transforms into a convenient tray.
The Kangaroo collection presents a delightful set of two tables in sizes: small and large. Each set is thoughtfully designed to feature a harmonious color scheme, with the large and small tables beautifully matching each other in the same color. The tray colors available are Red, Yellow, Powder Blue, Grey, Bottle Green & Black.
1. Use it as a coffee table: It is the perfect size for a coffee table. It can be used for placing drinks, snacks, and books.

2. Use it as a side table: It is the perfect size for placing a lamp, a plant, or a stack of magazines. The table can also be used as a place to put your laptop or tablet.

4. In a bedroom: The Kangaroo Nested Table can be used as a nightstand or a side table. You could also use it to display books, photos, or other personal items.

3. Use it as a nesting table: The Kangaroo Nested Table can be nested together to save space. This is a great option if you have a small apartment or if you want to be able to move the table around easily.

4. In a living room: The Kangaroo Nested Table can be paired with a sofa, a chair, and a rug to create a comfortable and inviting space. You could also add a lamp, some art, and plants to finish the look.

5. The Kangaroo Nested Table looks great when paired with other teak furniture. This could include a sofa, a chair, or a bookshelf. The table can also be paired with other natural materials, such as bamboo.
Q. What is a nested table?
A. A delightful duo, where the smaller table gracefully slides within the larger one, saving space with style.

Q. What other features does this have?
A. Kangaroo features cleverly designed tabletops that effortlessly flip to become handy trays, adding functionality and flair to your space.

Q. Is it possible to mix and match the colors?
A. these duos are color-coordinated. They were designed as a set. Mixing the colors will separate the set.

Q. Can the colors of the legs be changed?
A. Only for bulk orders and with additional time.
Share